Today it's all about the food.  I love it.  All of it.  Everything about it.  
I
LOVE
this website.  It goes great with my even bigger
LOVE
of cooking (and eating).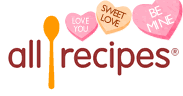 Some of my favorites that I
LOVE:
Girl Scout Cookies--these ones!
(tis the season.  I know where you can order some if you need to know.)
I also enjoy these shows.